We are pleased to bring you our latest article in our ongoing 'Neighborhood Market Focus' series. This article takes an in depth look at Langley's Walnut Grove neighborhood. This report was done as part of our ongoing market research and as a service to our clients and potential clients
Community Description:
Walnut Grove is a nice community located at the northern side of Langley township, directly South of the Fraser River and north of highway 1, with Port Kells, Surrey to the west and Fort Langley to the East. . Walnut Grove was developed into an urban area mainly through the 1980'-1990's, although some developments are more recent.
Walnut Grove is a well planned walkable community with numerous walking and biking trails and a good road network. Walnut Gove has many community amenities including several parks and schools with the most notable being Walnut Grove secondary school and the Walnut Grove community center. The recreation center is an excellent facility which has an indoor pool, gym, gymnasium, library, outdoor tennis courts and numerous sports fields and a running track. Walnut Grove has a number of amenities in its commercial areas, such as grocery stores, the colossus movie theatre, Sportsplex ice and roller arena and numerous restaurants, there is also a growing commercial/ industrial area in the north west corner.
The Walnut Grove Community Center
The Walnut Grove Community Center Pool
The Colossus Movie Theatre
Sports Plex Ice and Roller Arena
Walnut Grove has a diverse array of housing options from seniors retirement residences, to apartments, townhomes, adult oriented town homes in gated communities, single family homes and even some acreages. Overall walnut grove is a safe friendly well planned community in Langley Township.
Apartments
During the July 10 – August 10, 2014 time Period there was 4 sales of apartments in Walnut Grove which was a notable drop compared to the 6 sales during the same period last year. The Home Price Index (HPI) for apartments in Walnut Grove also saw a drop of 2.89% compared to the same period one year ago, however the average days that it took for apartments to sell dropped by 50.42% to 59.5 days. This would seem to suggest that although prices have dropped somewhat from last year sales are happening more quickly meaning that buyers are likely becoming more receptive to apartment asking prices compared to last year resulting in quicker sales.
Townhomes
During this time period there were 12 sales of Walnut grove townhouses, 6 of which were adult oriented. This is down notably from last year when there was 22 sales of townhouses (9 of which were adult oriented) in the same time period. The Home Price Index for townhouses in Walnut Grove saw a modest increase of 1.01% compared to the same time last year, and the average days on the market required to sell decreased to 31.7 days. Overall this would seem to suggest that the market for townhomes in Walnut Grove is strengthening slightly, however most of the strengthening can be attributed the Adult oriented sector of the townhouse market.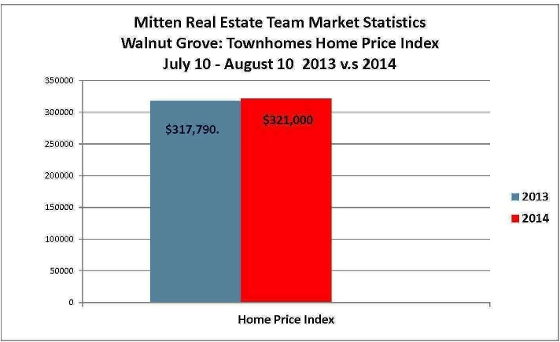 Single Family Detached Homes
During this Time Period there were 14 sales of single family detached homes in Walnut grove which was down from 20 that occurred during the same period last year. The Home Price Index for single family homes showed a respectable gain of 5.43% compared to the same period last year while the time to sell was significantly decreased to only 11.3 days. This data would suggest that this segment of the market is 'heating up' as the demand for this type of housing in Walnut Grove is high resulting in quicker sales and rising home prices.
Acreages
Although there are a few acreages that are sold in Walnut Grove, this segment of the market is very small and sales are relatively few and far between, making analysis difficult, however at current there are 4 acreages for sale in Walnut Grove.
Active Listings
There are currently a total of 145 active listing in Walnut Grove, with 61 properties being listed within the last 30 days.
Conclusion
In conclusion as we have seen in other areas the market in walnut grove varies significantly based on the market segment. The apartment market has seen a modest drop in prices but a decrease in how long it takes for apartments to sell suggesting that prices may start to stabilize or at least see a slower decline in the future if other factors stay the same. The Townhome market is starting to show a very modest bit of strengthening however looking through the data it would seem that this can be mainly attributed to a strengthening in the Adult oriented Townhome market, which is not surprising given the lack of any new construction of adult oriented townhomes and with aging demographics it seems reasonable to assume this is a trend that should continue if other factors stay the same. Single family detached homes in Walnut Grove are continuing to show strengthening as the demand rises for this type of housing, prices have risen by 5.43% in the last year and the time required to sell has dropped to a quick 11.3 days on the market. This would seem to suggest that if other factors stay the same the single family detached homes market segment in Walnut Grove may continue to see a strengthening in the near future.
As always if you have any questions about this article, any other real estate related questions or you are thinking of buying or selling please contact us we would be happy to assist you. We can be reached either through this website or by calling 604-882-8384.
Sincerely,
Mitten Real Estate Team